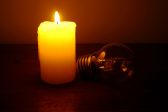 An awful terrifying charge is back, level 1 is likely at 2:00 a.m. today, and may be a rotation until the end of the weekend.
Once again, it is necessary to renew the diesel and water reserves.
Stage 1, the most serious stage and 1,000 MW coverage, will continue until 10:00.
Check to see how your local schedule can be affected.
#POWERERALERT 1
Thursday, February 28, 2019

Increased risk The risk of the 1st trajectory has increased, from 14:00 to 22:00 today until the end of the weekend until the end @CityPowerJhb @City_Ekurhuleni @CityTshwane @CityofCT @ewnupdates @SABCNewsOnline pic.twitter.com/WyH7WBuq1k

– Eskom Hld SOC Ltd (@Eskom_SA) February 28, 2019
Citizens will update this article for the actual charging load.
For more news, download the Citizen Application iOS and Android.