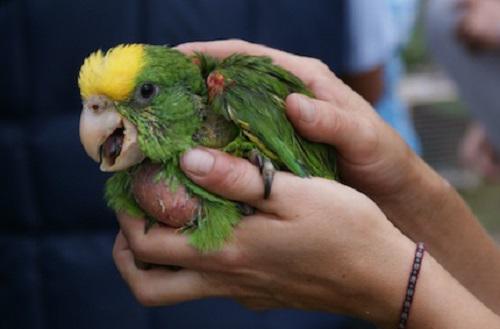 In the summer season, the notification of suspicious cases of psittacosis is increased: infectious diseases against infected birds, such as parrots, flowers, parrots, canaries and pigeons, transmit infections. human beings – The Ministry of Health of the Province of San Luis, through the Epidemiology Program, has provided preventive measures for this disease.
The head of the Epidemiology Program, Rodrigo Verdugo, announced in 2019 that he detected 6 suspect cases; One of them was not confirmed and rejected. Four Pedernera Department and Junín Two.
Psittacosis, Chlamydia is an acute and generalized infectious disease caused by a bacterial psittaci, which has uncovered secret infected birds, such as parrots, parrots, parrots, canaries and pigeons, which transmit the infection to humans.
When ill, these birds eliminate the bacteria for the environment by drying eyes, drying, breathing apparatus and feather powders. When drying, they are kept in the air and sucked by people who are infected.
symptoms
The clinical image of psittacosis can change the different infections without obvious illness, to a specific non-specific febrile illness, as well as to pneumonia; The second one begins with a generic image: hyperthermia (hot body), constant symptom of mental headaches, general discomfort, fatigue and fatigue. Coughing occurs from 24 to 48 hours, with a lack of experimentation, in general, mucosa and viscose. The highest body also appears, including yellow skin, splenomegaly (spleen extension) and perception changes. Although the disease is mild or moderate, it can sometimes be severe, especially among seniors and older people who do not receive treatment.
treatment
Persons with psittacosis should receive antibiotics in 14 days. Patient contacts, family members or colleagues should be monitored to show signs of the initial stage.
Even if the symptoms of fish are in contact with diseased birds, it is necessary to go to the nearest health center or hospital to make the right choice.
Preventive measures for the maintenance of captive birds
Fire and cage or surface area cleaned daily in the poultry manure. Always moisten them with disinfectant solutions (2 liters of spoon diluted in 1 liter of water) to produce dry waste aerosols.
Avoid all kinds of stress in birds, respect the space of each bird, nurture it properly and place it in the right places.
Do not have long stays closed in rooms where the birds are.
Note and Photo: Press Health Ministry.