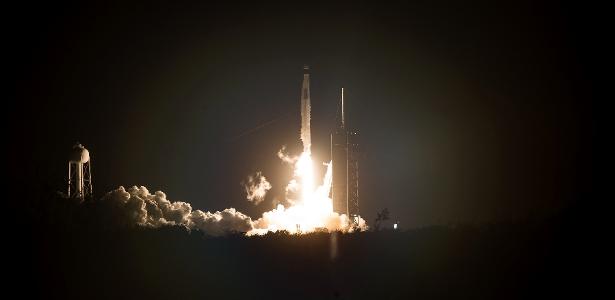 [ad_1]
The Crew Dragon capsule was successfully shut down around 1:00 a.m. Brazilian time in the station's Harmony module at the station's ISS (International Space Station). Inside are astronauts from the Crew-1 mission, the first of six manned missions by NASA in partnership with a private company SpaceX – conducted by billionaire Elon Musk – as part of the agency's Crew Commercial Program.
The capsule, which the crew called a "Resilience," was launched with the SpaceX Falcon 9 rocket at 9:27 p.m. yesterday from NASA's Kennedy Space Center on Cape Canaveral, Florida.
Michael Hopkins, Victor Glover and Shannon Walker were NASA astronauts, and Soichi Noguchi, Jaxa (Japan Aerospace Exploration Agency).
It was scheduled to launch on Saturday (14), but had to be postponed due to weather conditions.
Sunday's takeoff was a success, even though an air leak dropped the unexpected pressure two hours before it left the capsule, NASA officials said. Technicians said it has been successful in verifying leaks and maintaining planned launches.
As well as being the first international four-person crew to be launched on a commercial spacecraft, Crew-1 will increase the number of long-term crew members on board the ISS from six to seven for the first time.
American Kate Rubins and Russians Sergey Ryzhikov and Sergey Kud-Sverchkovo are already on the space station. The new population will remain on the ISS for six months and is expected to return to Earth next fall.


[ad_2]
Source link