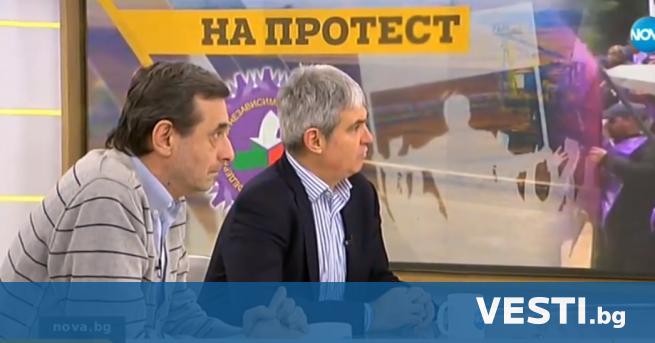 "If the complex closes, we will leave electricity without it. If that happens, it will be godlessly expensive. There is no alternative and no one will offer electricity at a lower price than production", said Podkrepa, CTK chairman Dimitar Manolov, Nova. Hello, Bulgaria. "
Minister and energy protest Sofia. The unions organize Podkrepa. Miners Maritsa East and TPP Maritsa East 2 Radnevo yesterday met to clarify how the complex energy will continue to work.
"It has been created with energy theme We emphasize the coalition of the affected countries and Bulgaria. They are among the countries of Germany and Poland, "he added.
"The miners and energy companies have clearly said what they were fighting for, they want the future of the energy of Bulgaria, which is about 45% of the electricity generation," said Plamen Dimitrov, Prime Minister Boycı Borisov and Rumen Radev.
"This mantra is a waste of TPPs that are dirty. We drink coal and wood at home. The European Commission has a criminal procedure against Bulgaria, which is particle dust, because it is a rule. "Dimitrov said.
As it can be seen that there is no sustainable solution for coal-fired power stations, Bulgaria will not suffer from other electrical supplies. The president of the Confederation of Independent Trade Unions (CITUB) added that it will not take place until February, when the next protest will be in Brussels.
The mission will begin on the 13th It will take hours and the streets of Sofia to stop the problem in the General Ministries. On Friday, a meeting of representatives of KT Podkrepa and CITUB is expected with the president and the Prime Minister.
About 50% of Bulgarian electricity is produced by coal-fired power stations and the entire region is protected by the sector. TPPs must comply with eco-requirements and establish coal history.
"Significant and unacceptable is disarming the two major energy companies, more than 45% of country's electricity," said CITUB.
The statement sent to the heads of the instruction states that the situation of the main powers of our country is worse, which creates anxiety again. "The latest essays to rescue Maritza East from the sharp financial deficit are not credible: on the one hand, solutions are suggested, that stable businesses can bring about a problem transfer and, on the other, discussing actions in a distant way," said the statement.
The unions urgently need to emphasize a good position To stop coal reserves to ensure future development. A new energy strategy for the years 2030-2050 of 2020 is required and Maritsa East 2 has a long-term commitment to establishing a mechanism to compensate for the loss of carbon footprint in the TPP.
Maritsa East 2 TPP has BGN of 1,199 million euros.
Follow them anywhere and anytime with the Vesti.bg mobile app. You can download it Google Play and AppStore.
To learn more about Vesti.bg news, follow our page Instagram