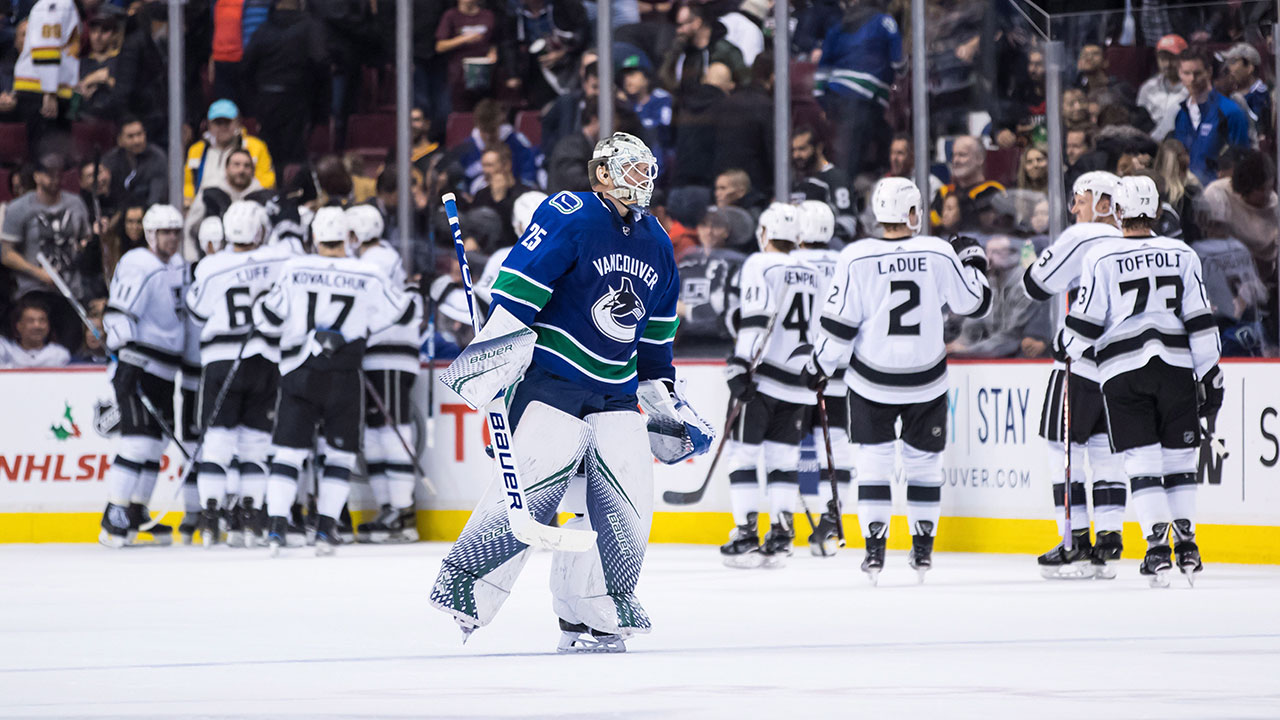 VANCOUVER – Someone came to watch a hockey game here Tuesday and left Rogers Arena with $ 706,815, the winner's share of a world-record 50/50 draw.
So at least one Vancouver Canucks fan who went home happy.
The rest had more mixed emotions, seeing their team force overtime with a late third-period goal only to lose 2-1 to the Los Angeles Kings.
The one point was something at least. But the Canucks lost an opportunity to accelerate momentum after ending an eight-game losing streak Saturday in Los Angeles, where they beat the Kings 4-2.
And if you're into this kind of thing, the Canucks yielded ground in the National Hockey League standings to almost everyone else in the Pacific Division when Anaheim, Arizona, Vegas and Edmonton joined Los Angeles as winners on Tuesday.
"Points are important," Canuck goalie Jacob Markstrom said after getting hit by a rebound by Dustin Brown 53 seconds into overtime. "That's why we play this game – to get as many points as we can get. If you're going to lose, we have to keep regulation losses to a minimum. One point is important, but it would have been nice to get two when we worked our way back and we felt like we had the momentum. "
The victor in Vancouver, besides the lucky jackpot winner, was Brock Boeser, last season's Calder Trophy finalist who returned to the lineup after missing 11 games with a groin injury.
His timing was clearly off after only one full practice preparation, but Boeser still scored almost a second-period backhand that hit the inside of the post. The winger was also guilty on the winning goal, though, letting Brown beat him to the net after Anze Kopitar won a faceoff against Bo Horvat that allowed Kings' defenceman Alec Martinez to force save from Markstrom.
The Canucks did not touch the puck in two overtime shifts.
"(Brown) passed it and jumped past me there, so obviously it was a bad defensive play," Boeser said of the winning goal. "I think that's just something I've got to learn from.
"I would not say it was the best first game back, but I thought in the third there our line got it going a bit and we got some zone time. It's hard when you get one practice and come back. It's just up from here. I'm not looking at the negatives. Team-wise, I thought it was great to keep battling even though we did not have a good first two periods or get that extra point. "
The last-place Kings, who beat the Oilers 5-2 on Sunday, have won consecutive games for the first time since ex-Canuck boss Willie Desjardins replaced John Stevens as coach on Nov. 4
They were vintage Kings for most of the game: heavy on the boards, tight defensively and with the greater share of offensive-zone time until the third period.
With L.A. Clogging the neutral zone in a full-court defense, the Canucks outshot the Kings 13-6 in the final 20 minutes of regulation time as they chased to tying goal. But they generated few excellent chances before Markus Granlund deftly deflected Alex Biega's shot shot past Kings goalie Calvin Petersen with 3:43 remaining.
Granlund beat Adrian Kempe to the front of the net after helping the Canucks' Jake Virtanen win a board-battle for the puck.
"That was notorious of the L.A. Kings and how they play," Biega said. "They capitalize on mistakes and they like to keep the battles on the boards. Those are the types of games we have to win in the Pacific. It's big, heavy games.
"They're definitely big and strong in the corners and they use that to their advantage. At the end of the day, you have to look at the positives and I thought our group showed a lot of character battling back."
After playing 17 of their previous 25 games on the road – and traveling before 21 of their 27 games this season – the Canucks are 1-7-2 in the last 10 games. They've been much better defensively the last three and are opening a five-game homestand.
Sportsnet NOW gives you access to over 500 NHL games this season, blackout-free, including Hockey Night in Canada, Rogers Hometown Hockey, Scotiabank Wednesday Night Hockey, the 2019 Stanley Cup Playoffs and more.
But the Kings probably represented the most "winnable" game for the Canucks, who struggled for most of the first two periods to create scoring chances beyond a couple of brilliant setups by Biega, the depth defenceman who was brought into the lineup by coach Travis Green to provide energy.
Canuck wingers Antoine Roussel and Loui Eriksson, alas, could not put the puck in mostly open nets after terrific, backdoor passes by Biega. Petersen was able to make sensational saves when given the chance to do so by Roussel and Eriksson.
It was a few minutes after Boeser sent his backhand off the inside of the post that Kings opened scoring at 10:45 a.m. of the second period when Alex Iafallo was left uncovered in the faceoff circle and blasted a slapshot in off Markstrom's arm.
Canucks rookie Adam Gaudette was caught puck-watching Brown out-positioned Biega on the end boards and passed out to Iafallo.
"Obviously they have a heavy team, like older guys, and they play good defensively," Granlund said. "We needed more speed and to move our legs to get more goals."
• Canucks defenceman Erik Gudbranson was a surprise scratch. Green said Gudbranson "tweaked" his neck in Monday's practice and is out day to day. Jay Beagle Center, out since breaking its forearm Oct. 24, could practice with the team this week.