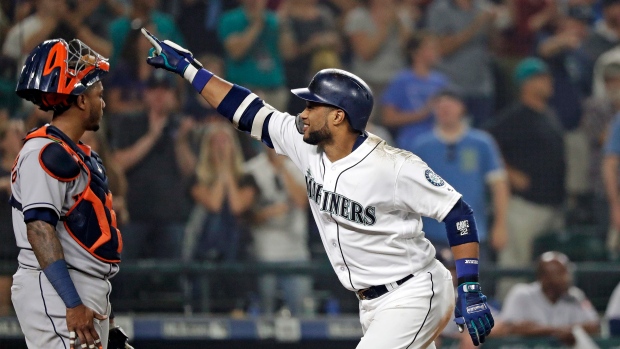 [ad_1]
The Major League Baseball off-season is in full swing with chatter heating up teams start to put their winter plans in place. Follow all the latest rumors on TSN.ca.
---
Back to the Big Apple?
The Seattle Mariners have already traded a potential All Star pitcher in Canadian James Paxton to the New York Yankees and starting catcher Mike Zunino to the Tampa Bay Rays this off-season. According to Ken Rosenthal of The Athletic, General Manager Jerry Dipoto has no interest in stopping there as he is trying to deal eight-time All Star Robinson Cano.
Rosenthal reports the M's have contacted the New York Mets as well as Cano's former team in the Yankees hoping to get a deal done.
The 36-year-old second baseman served an 80-game suspension last season after violating baseball's drug policy. Cano still managed to hit .303 with 10 home runs and 50 RBIs over 80 games in 2018, his fifth season in Seattle and 14th in the MLB.
The Dominican Republic still has five years left on the 10-year, $ 240 million contract he has inked with the Mariners prior to the 2014 season.
Cano's best years came with the Yankees and Rosenthal notes he would probably have an interest in making a return to pinstripes. The two sides briefly talked about a deal centered around Cano and outfielder Jacoby Ellsbury, but the talks well though, says Rosenthal.
Rosenthal adds a deal with the Mets seems less likely.
---
Double Deal?
Arizona Diamondbacks power hitter Paul Goldschmidt, who is entering the final year of a five-year, $ 32 million contract, has been in the center of many trades rumors this off-season.
A player of Goldschmidt's caliber would likely win a solid return in any trade, but probably a smaller amount if the D-Backs were to pack him in a deal with expensive starting pitcher Zack Greinke, reports Rosenthal.
As a result, Arizona has not discussed any deals involving Goldschmidt and Greinke, who has three years and $ 95.5 million left on his contract, as a package, reports Rosenthal.
Despite a swap like that being unlikely, Rosenthal notes the St. Louis Cardinals have discussed the possibility of pursuing Goldschmidt-Greinke trade internally. However, St. Louis is on Greinke's 15-team non-trade list and would have to agree to any trade to the National League Central team.
Goldschmidt, 31, hit .290 with 33 homers and 83 RBIs over 158 games in 2018. Greinke, 35, posted 15-11 record with a 3.21 ERA and 199 strikeouts over 207.2 innings pitched last season, his third in Arizona.
[ad_2]
Source link