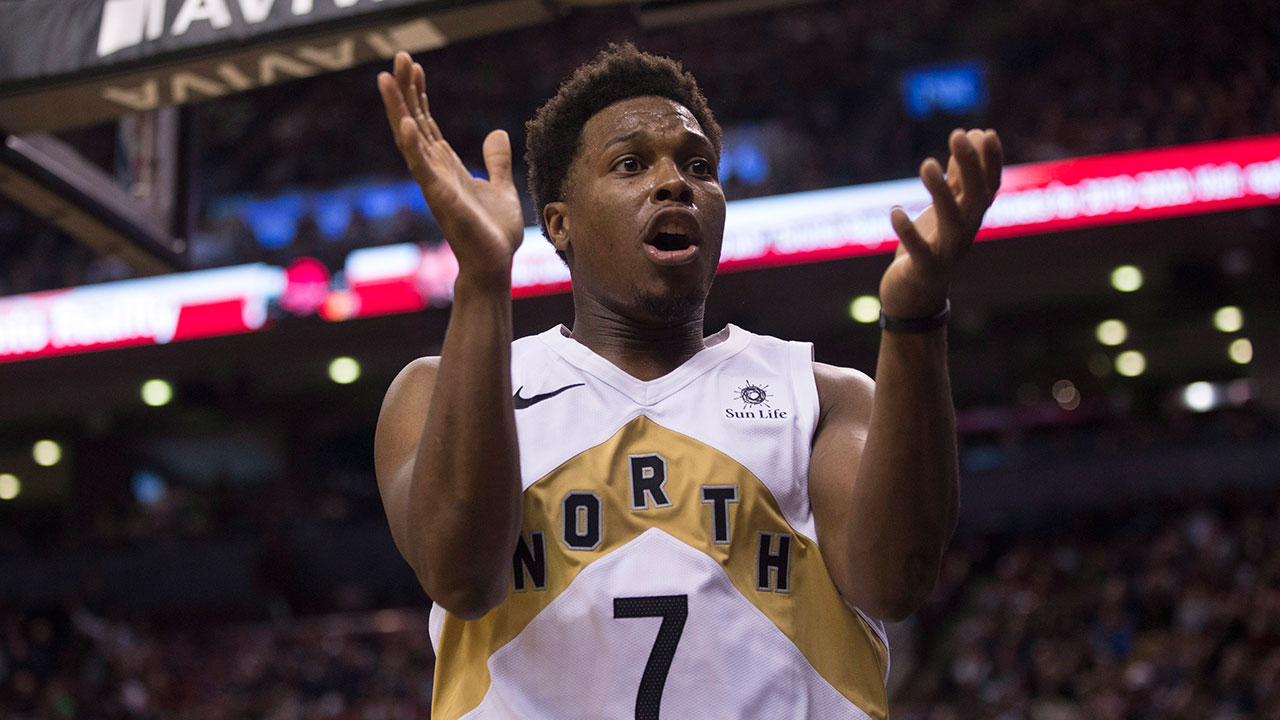 Toronto Raptors guard Kyle Lowry is no longer upset the decision to trade DeMar DeRozan.
In an interview he did with The Athletic's Michael Lee, Lowry opened up about why he's no longer holding a grudge about everything that happened in the summer.
Citing the fact DeRozan "made peace with it," Lowry told Lee the commitment the Raptors made to him also made it hard for him to remain upset with the organization.
Stream marquee NBA matchups from around the league, including over 40 Raptors games. Plus, get the NHL, MLB, Premier League, CHL and more.
"They made a commitment and they secured me more money than I ever thought I would do," Lowry said. "And yeah, I've proven it on the basketball court and I continue to keep improving and that I'm worth the amount of money and salary that I make. The city has been great for me. The organization, I've made them let me be me.
"I'm not saying that in an arrogant way, but they gave me the chance. They did not have to pay me. I've done everything you wanted me to do. I've made the team get better and they've put me in a position where I've made them make a decision whether they wanted to keep me or not. They chose to keep me and I appreciate it. "
It also probably helps that the players that came back as DeRozan – and Jakob Poeltl – departed, Kawhi Leonard and Danny Green, have helped the Raptors jump into a red-hot, NBA-best 18-4 start. Lowry has played, perhaps, the best basketball in his career in leading the league in assists as he's seamlessly taken to back seat to Leonard as the team's main offensive threat.
As he told Lee, it's something Lowry's has been actively trying to make this season for the good of the team.
"Me, how I am, I want to make sure [Leonard's] comfortable, "Lowry said. "He's the most talented player that we have. He's our best player. He's got a ring Why not Danny's been great, too. Nothing is ever awkward because this is a small brotherhood. We all respect what we do.
"I feel people are always going to say something. All I can I do is keep it moving and eat. And make sure everybody else eats. I always want to help everyone else eat and if I help everyone else eat, I'm happy. "
With both him, personally, and his team flying high, there's very little for Lowry to complain about these days, even without DeRozan by his side, and he acknowledges it as such.
"Everything happens for a reason and that's just how you have to look at things. Only time you really ask why is when you are sick or someone is passing away, "he said. "For me, it's about winning championships. And if this is the situation that helps me win a championship, then I'm happy to be here. "