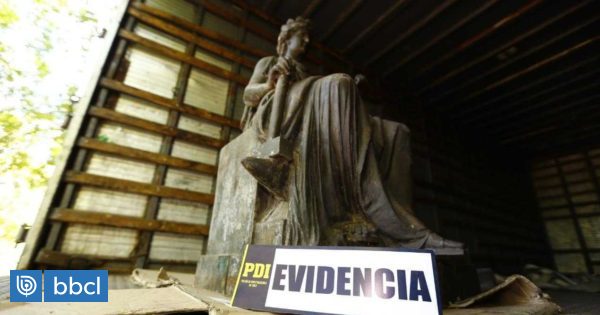 The PDI staff retrieved more than 10 stolen statues. Among them, "La República" was stolen in Buenos Aires in 2003, in the Plaza Rubén Darío, on the beach of Anbarra. The works were located at an address in the municipality of San Francisco de Mostaza, in the O & # 39; Higgins region.
The investigators of the anti-crime brigade against the Environment and Cultural Heritage (BIDEMA) were investigators.
The subprefect Pablo Ibarra, head of the BIDEMA of Valparaiso, stated that the investigation was carried out through a photograph published in the local newspaper, in the "Republic" country. That was the complaint he received in the O & # 39; Higgins district.
The cultural heritage of the country was full of huge values. Among them, It was the "Republic" statue, 8 statues of the general tomb and the church of Santa Lucia 2, in addition to 2 silver boxes stolen in the church of Santiago de San Francisco.
They also confiscated archaeological and paleontological species, the Pacific War Monuments, weapons and other articles.
It is the result of a BIDEMA study, which was looking for an old house in La Punta, included in the catalog of stolen historical elements of PDI and recovered statues found there.