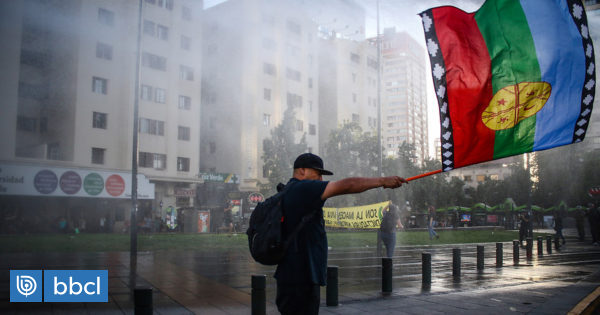 With incidents, barricades and a burned vehicle, a flagship for the crime of the young Mapuche communist culminated Camilo Catrillanca, in the center of Santiago.
The call was made through social networks and convened a little more 500 people on the esplanade of Baquedano Square, where a cultural event was held reminding Mapuches who have died in La Araucanía.
The spokesman of the Mapuche Student Coordinator in Santiago, Byron Rojas, said they will hold protests until mid-December in memory of Camilo Catrillanca.
https://media.biobiochile.cl/wp-content/uploads/2018/11/27fdcunamarcha.mp3
The flagship and cultural event ended when a group of attendees began to march through Providencia Avenue without authorization, which resulted in the Carabineros Special Forces action when the car launched waters and tear gas.
In addition, there were incidents and barricades in the park Bustamante, Forest Park and the Alameda park, which caused that the vehicular traffic was cut for more than an hour.
However, it was on Avenida Francisco Bilbao with Bustamante where individuals attacked a security vehicle from the Municipality of Providencia, which was set on fire with Molotov pumps. According to the mayor, Evelyn Matthei, The fact occurred when he was his driver inside, who resulted in minor injuries.
The final balance of Carabineros was coded in 37 people detained, most of them due to public disorders.
This Tuesday, another vehicle from the Providencia Municipality appeared by Baquedano to lift the traffic signs and other objects that the protesters left on the ground after the protest.