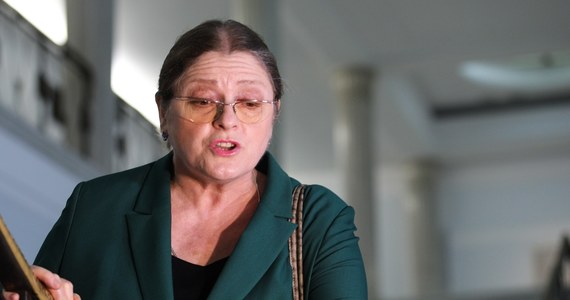 "The scandal of the betrayal of the Republic of Poland with the use of public television" – stated the Constitutional Court Judge Krystyna Pawłowicz TV made by Senate President Tomasz Grodzki about the EU budget.
Prof. Krystyna Pawłowicz
/Andrzej Hulimka /FORUM Agency
In a televised speech, Senate Marshal Tomasz Grodzki called on the government to "respect the national interest and stay away from the threat of a veto in line with Polish reasoning." He stressed that it is against the economic, political and strategic interests of Poland. He also called on the authorities to recover and urge them to "return to compliance with the rule of law".
The Senate Marshal's speech was given by: TVP1, TVP Info, TVN24, Polsat News and Polskie Radio, among others.
Grodzki's speech was commented on by Constitutional Court Judge Krystyna Pawłowicz. "A betrayal scandal against the Republic of Poland from 20:00 onwards using a public television by a Senate doctor !!! SCANDAL !!!!" he wrote.
EU Member States did not unanimously reach a decision on the EU's 2021-2027 long-term budget and reconstruction fund. Poland and Hungary put obstacles in the way of regulations linking access to EU funds to the rule of law. At the meeting of EU ambassadors, the regulation was approved by a qualified majority of Member States.
On Friday, November 27, Prime Minister Mateusz Morawiecki spoke by telephone with German Chancellor Angela Merkel. After the interview, in a Facebook post, he reported that the German chancellor had stated that Poland expected more work to find a solution that would guarantee the rights of all EU countries and reaffirmed its readiness to veto the new budget.
On Thursday, the prime ministers of Budapest, Poland and Hungary signed a statement to agree on a critical stance on linking budget payments to "arbitrary and biased criteria for violations of the rule of law".
Senate Marshal Tomasz Grodzki's speech was a repetition of the Senate's EU budget resolution and, like this resolution, was also scandalous because it undermined the government's negotiating order – Grodzki's speech was commented by Marek Pęk, Vice President of the Senate (PiS).
According to Senate Vice President Marek Pęk, the message was a repetition of Wednesday's Senate resolution. – Like the resolution, it was scandalous because it was against the negotiating position of the Polish government. After all, it is the Prime Minister who directs foreign policy with the head of the Ministry of Foreign Affairs, and the Sejm controls the government – Pęk stressed.
Pęk recalled that the Sejm had adopted a resolution to strengthen the government's negotiating mandate. – Meanwhile, the Senate takes the resolution in complete opposition to its powers – he stressed.
– Senate resolutions and the marshal's address exceeded the constitutional powers of the Senate and weakened the government's negotiating order, – said Pęk.