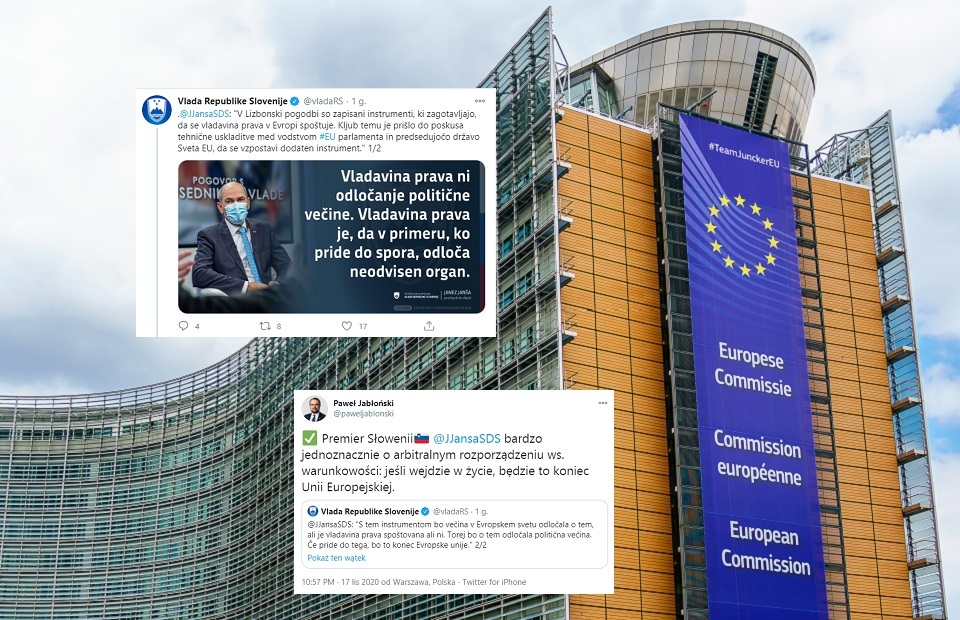 [ad_1]
Slovenian Prime Minister Janez Jansa wrote a letter to EU leaders, European Commission President Ursula von der Leyen and European Council President Charles Michel on EU budgets. There, he called for a "respect" and commitment to the July agreement on the EU budget, an EU source told PAP.
ALSO READ:
– OUR INTERVIEW. Behind the EU budget negotiations. Deputy Minister of Foreign Affairs: Many countries in the North behave irrationally
– OUR INTERVIEW. Czarnecki: It is good to bid for Poland, because only then will we be considered. Media and political pressure is expected
– Prof. Grabowska: "The veto is nothing out of the ordinary." Saryusz-Wolski: "We have nothing to talk about with the German president"
The source told PAP that the Slovenian prime minister states in the letter that respecting the conclusions of the EU summit in July on the EU budget is a responsible view for the good of the EU's future.
He also advises that the coming days will be decisive in terms of the budget, and that the commitment must be fair and balanced. He stressed that the EU is under time pressure, so it is certain that a strong agreement is needed to maintain the unity of the European Union in times of uncertainty.
According to information from the PAP, in addition to the Polish and Hungarian opposition, at Monday's meeting of the ambassadors of the member states, Slovenia called for a commitment to move forward.
Slovenian Prime Minister Slovenian flag @JJansaSDS is certainly about an arbitrary conditional regulation: if it enters into force, it will be the end of the European Union
– Commented on and quoted the words of the Slovenian Prime Minister, Paweł Jabłoński, Deputy Head of the Polish Ministry of Foreign Affairs.


[ad_2]
Source link