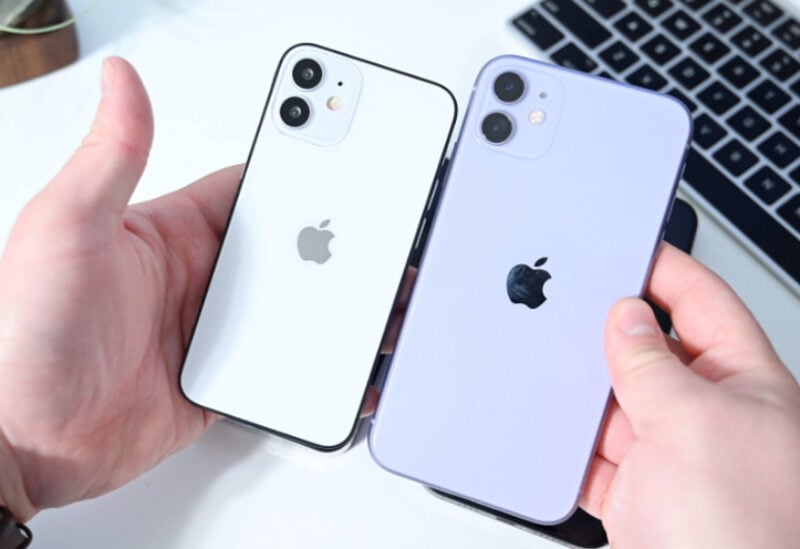 2020 is classified as a disastrous level at all levels, and although many people have benefited from the Corona pandemic crisis, which has increased their wealth, many companies have not been able to maintain success in 2020, and Apple is the most notable because it was not so lucky with iPhone 12 series sales.
Apple has launched all the phones in this year's new series (iPhone 12), which includes 4 phones of different sizes, and supports some changes that differentiate it from last year's iPhone 11 series. These changes include: updated design, support for 5G networks, improved camera and new sizes.
But Apple now sells 7 iPhones that change in size and price through its website, which gives it a better chance of competing fiercely with giant Android phone companies; Such as: Samsung and Google. Apple now sells three-generation iPhones; It includes: 4 phones in the iPhone 12 series, the new iPhone SE, the iPhone 11 was released in 2019 and the iPhone XR was released in 2018.
In addition; Not all iPhones are as expensive as expected, with Apple offering different prices ranging from $ 339 for the iPhone SE and up to $ 1,399 for the iPhone 12 Pro Max.
So today we'll take a look at all the iPhone phones available in 2020 and their specifications to meet your iPhone needs and fit your budget so you know which iPhone you can buy:
1- New iPhone SE:
It's the smallest phone Apple has to offer, and it's the perfect choice for anyone who doesn't prefer large smartphones or wants to adapt easily with one-handed use and get a smaller phone at a very affordable price.
It runs on the A13 processor, which offers the same performance as the iPhone 11 series phones released in 2019, and is now available at more expensive prices.
It comes with a 4.7-inch screen, and is similar to the iPhone 6, iPhone 7 and iPhone 8. The home button reappears on iPhone, and the button has a fingerprint sensor (Touch ID).
Price: Starting at $ 399.
2- iPhone 12:
This year is the best purchase in terms of price and specification.
It has a 6.1-inch OLED screen, which is a screen you'll find on the iPhone 12 Pro, which raises its price by about $ 200.
In addition to the screen; The iPhone 12 shares almost all of the specifications with the iPhone 12 Pro, which runs on the same processor (Apple A14 Bionic), supports 5G networks, MagSafe wireless charging, has the same battery, and camera, color, and internal storage options they differ according to.
The iPhone 12 has a dual lens rear camera. Two lenses: a 12-megapixel camera, and a single 12-megapixel front camera.
Price: Starting at $ 799.
3- iPhone 12 Mini:
This phone is a great choice for those who don't prefer big phones and want to get the new features that Apple has to offer at the same time.
The iPhone 12 Mini has a 5.4-inch OLED display, which is slightly larger than the iPhone 12 SE.
It supports the same features you'll find on big iPhone 12 phones, including a high-performance A14 processor, support for 5G networks and wireless charging, and dual-lens rear cameras.
Price: Starting at $ 699.
4- iPhone 12 Pro Max:
This phone is a good choice for people who prefer larger phones and especially for those who plan to take pictures and watch videos.
The iPhone 12 Pro Max shares almost all the specifications with the iPhone 12 Pro, but it only stands out in screen size and battery life. But the iPhone 12 Pro Max remains the best for photography and productivity enthusiasts, as it is the largest iPhone to date; It comes with a 6.7-inch OLED display.
The Pro Max has the advantage that it works more than a full day on a single charge, however, if you don't want a big phone but want the same camera features that this phone offers, the iPhone 12 Pro will offer you everything you want for $ 100.
Price: Starting at $ 1,099.
5- iPhone 11:
The right choice if you want a high screen iPhone at an affordable price, as Apple continues to sell it on its website at a lower price.
It works with the A13 Bionic processor, so it still offers great performance, and comes with a dual rear camera that works very well and supports night mode that takes a lot of photos for a few seconds to illuminate people in different exposures in the dark much better than the previous iPhone. .
It doesn't have a flat edge, OLED display or MagSafe function, nor does it support 5G networks like the iPhone 12 set, but you get IP68 water resistance and wireless charging and the battery will last a full day on a single charge.
Price: Starting at $ 599.
6- iPhone XR:
This phone is a good choice for people who want to have a great iPhone, even at an affordable price.
Apple launched the iPhone XR in 2018, and it comes with a 6.1-inch screen.
It works with the A12 processor, so it's still a great phone, but not at the price offered by Apple (it's $ 499), as it makes sense to pay $ 100 more and get a newer and better iPhone 11.
You can buy this phone at any store for $ 400 or less, which will be a great option. If not, choose another phone from the list above.
Source link