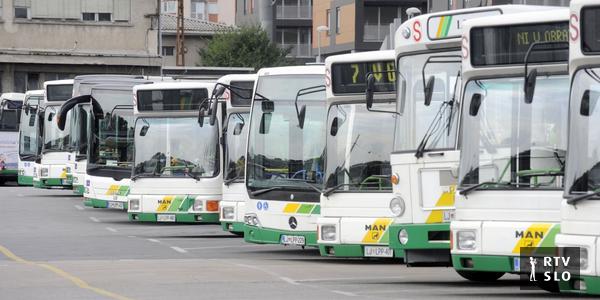 [ad_1]
It is scheduled for Monday for public transport ceased to operate for two weeks, which is a major problem for many transport workers at work.
Some companies, such as Gorenje in Revoz fixed the closure of public transport without much trouble for local staff. Ministry for the infrastructure introduced a contact point on Friday so that those with problems could rotate.
"We received 700 calls, emails, questions from many people. The key was how he got to work. Companies also approached us. We have established several lines. Above all we took care of it for uninterrupted transportation of staff in hospitals, homes for age … I call on employers to let the ministry know where they want open lines, when in how. We have the opportunity to inform employers of the lines", explained Minister Odmevin for infrastructure Jernej Vrtovec in he added that additional exceptions have also been introduced, for example, family members can take another family member with a municipal cross-border certificate.
"We contacted the concessionaires to inform both UKCs, special lines, called employee buses. Because these lines go for emergency, covered by the ministry. Bitan anti-crown the package, the ministry, along with the government, went to employers, including contractors from time to time in regular online services, in we returned all the funds to them. The government will not disappoint anyone when it provides transportation for workers to work. We have given in the past in we will continue to do so in the future. Organization in the government will help financially"The state is wondering if it will allow companies that will temporarily introduce their own transportation for its staff, they covered the costs or. he wanted to give them a subsidy, the Minister of Infrastructure replied.
Director of the Association for promise about GZS-ju Robert Sever he noted, among other things, that analogue countries had not introduced a measure to suspend public transport, and asked for how many infections are believed to have been caused by public transportation.
Minister Vrtovec replied that it was an assessment of the profession, and that as a competent minister he should listen to the profession, what is needed in which is not necessary.
"My job is to get the staff to come to work. It is not our job to judge the opinion of the profession, but to trust the profession. There have been many mistakes in this area in the past. My job is to ensure as few relationships as possible to minimize infections. In public transport, I know that this has not happened in some countries, but in ours in my job is to help improve the profession razmer, "The infrastructure minister explained the government 's decision to stop public transport again.
// Production steps of ECMA-262, Edition 6, 22.1.2.1 Array.from||(Array.from=function(){var r;try{r=Symbol.iterator?Symbol.iterator:"Symbol(Symbol.iterator)"}catch //IE11 polyfill if (!String.prototype.includes) { String.prototype.includes = function() { 'use strict'; return String.prototype.indexOf.apply(this, arguments) !== -1; }; }
// Cookie helper var cookieHelper = { getCookie: function(name) { var value = "; " + document.cookie; var parts = value.split("; " + name + "="); if (parts.length == 2) return parts.pop().split(";").shift(); },
setCookie: function(name, value, days) { var d = new Date; d.setTime(d.getTime() + 24*60*60*1000*days); document.cookie = name + "=" + value + ";domain=.rtvslo.si;path=/;expires=" + d.toGMTString(); },
deleteCookie: function(name) { cookieHelper.setCookie(name, '', -1); },
cookieExist: function(cookieName) { if (document.cookie.split(';').filter(function(item) { return item.includes(cookieName + '=') }).length) { //console.log('Cookie founded!'); return true; } return false; } }; // END: Cookie helper
// iProm (function(a,g,b,c){ a[c]=a[c]||function(){ "undefined"===typeof a.ipromNS?(a[c].q=a[c].q||[]).push(arguments):a.ipromNS.execute(arguments)}; var k=function(){ var b=g.getElementsByTagName("script")[0];return function h(f){ var e=f.shift();a[c]("setConfig",{ server:e}); var d=document.createElement("script");0-1){ cookieConsent = true; } var $sid = 'slovenija'; var $ssid = 'gospodarstvo'; if($sid == ''){ $sid = 'default'; } if(cookieConsent == false){ $sid = 'safe'; $ssid = ''; } //console.log('rtvslo',$sid,$ssid); _ipromNS('init', { sitePath: ['rtvslo',$sid,$ssid], cookieConsent: cookieConsent }); // END: iProm
// Dark mode, Comments & Login if (document.cookie.indexOf('darkModeEnabled=true') != -1) document.body.classList.add('dark-mode'); if (document.cookie.indexOf('showComments=true') != -1) document.body.classList.add('show-comments-enabled'); if (document.cookie.indexOf('APISESSION') != -1){ document.body.classList.add('user-logged-in'); }else{ document.body.classList.add('user-logged-out'); }
// Mobile check var mobile = false; var mobile_xs = false;
var checkIfMobile = function checkIfMobile() { var w = window.innerWidth || document.documentElement.clientWidth || document.body.clientWidth;
w < 992 ? (mobile = true) : (mobile = false); // 992px = lg breakpoint w < 576 ? (mobile_xs = true) : (mobile_xs = false); // 576px = sm breakpoint }; checkIfMobile(); window.addEventListener("resize", checkIfMobile); // iOS standalone var isIos = function isIos() { var userAgent = window.navigator.userAgent.toLowerCase(); return /iphone|ipad|ipod/.test(userAgent); }; // Detects if device is on iOS var isInStandaloneMode = function isInStandaloneMode() { return "standalone" in window.navigator && window.navigator.standalone; }; // Detects if device is in iOS standalone mode var showIosNative = false; if (window.location.href.indexOf("show-ios-native") !== -1) document.cookie = "showIosNative=true"; if (document.cookie && document.cookie.indexOf("showIosNative=true") != -1) showIosNative = true; if ((isIos() && isInStandaloneMode() && mobile) || showIosNative) document.body.classList.add("ios-standalone"); // Facebook if(document.cookie && document.cookie.indexOf("cc_social=yes") > -1){ (function(d, s, id) { var js, fjs = d.getElementsByTagName(s)[0]; if (d.getElementById(id)) return; js = d.createElement(s); js.id = id; js.src="https://connect.facebook.net/sl_SI/sdk.js#xfbml=1&autoLogAppEvents=1&version=v3.1&appId=142347525793254"; fjs.parentNode.insertBefore(js, fjs); }(document, 'script', 'facebook-jssdk')); }


[ad_2]
Source link