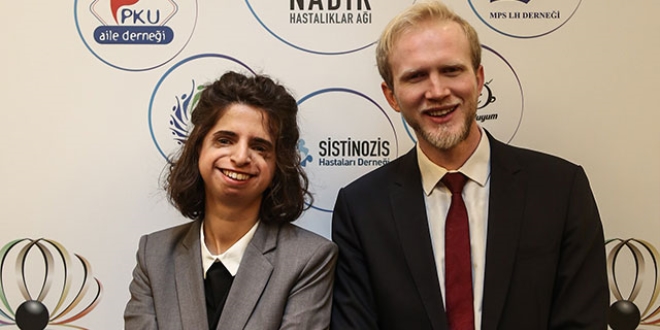 Early diagnosis is an important factor in the successful treatment of rare diseases, many of which have not been treated, but many patients have gone to a variety of physicians to reach the right treatment and get treatment later. On February 28, the World Day of Rare Diseases, several 9 associations of rare diseases were gathered and a press conference was organized, focusing on their problems.
WE DO NOT LIKE YOUR BIRTHDAY & # 39;
50 people had seen Treacher Collins syndrome in male 1 on Zeynep Çakır Disease because of the illness and described the same discrimination as follows:
"When he was treated to me when I went to the doctor, he told me he was not an attorney. I asked him to walk on his face and I offered an operation on my face. I did not agree I was loneliness for 26 years. Not only me but other people with rare diseases They would be dismissed from society, which is why I joined the network. "
28 DRAINAGE OF TREATMENT OF DISEASE DUNYLY, DIAGNOSIS OF DISEASES OF 9 ADEQUATE DISORDERS OF NEGATIVE ENTITES. ISTANBUL, (DHA)
RARE DISEASES & # 39; HERE HERO HERE
Head of the Association for High Blood Pressure and Scleroderma and Kamil Hamdullah, a patient with a viral arterial hypertension, told the story of his life and described his demands as a Rare Illness Network. Hamdullah, the arterial hypertension of the artery and died after he died, said he had diagnosed his illness for 23 years and struggling for many years. Hamdullah has stated that it is wrong to compare patients with rare disease patients with their healthy work and school life.
"Every family, home, or family, expects 100% of people with rare diseases, but we are breathing or fighting for other issues. We are fighting for 24 hours. It's a hero in his illness, and his colleagues work with other people. It is compared, but others do not believe that it is a hero in his illness, so they have to fight for a long life and have to leave their illness.
"Nearly 5 Million People In Turkey In Rare Disease"
Alim Yilmaz, a member of the Rare Diseases Network and member of the Albinism Association Committee, stated that 50% of the patients were children and that 30% of the children were not 5 years old. Yılmaz, a lawyer and fortunate enough for many people living with albinism, said about the established network:
"I am involved in the Network of Rare Diseases, the Albinism Society. Although rarely seen by rare diseases, it is estimated that even if there are about 5 million people suffering from strange illness in Turkey. Creating a special commission for this, creating a special treatment for a rare diagnosis of rare diseases We want to make it possible for people to reach the centers, it is very important for them to work for people who work for us and create a section for people's awareness, and we also want to ask about the problems they want.
Request Requests
The members of the Network of Rare Diseases met, among which they mentioned:
– Awareness of social and civic awareness.
– Establish medical centers and treatment centers,
– Formation of important medicine and designation of doctors of each country in the country.
– Representatives of associations of rare diseases established by the competent authority,
– Conscientious studies of the Ministry of National Education for people with rare diseases, chronic illnesses and disabilities.
RECENT IMPORTANT SCANNING
PKU, among rare diseases, is another disease called phenylketonuria. Deniz Yılmaz Atakay, president of the PKU Phenylketonuri family, said this problem in the press conference and said: Ankle has reached 20 thousand children and adults with special foods of low protein in our country. Unfortunately, these individuals are not healthy today, but many of them are mentally disabled. I would like to emphasize that premature diagnosis is very important, but if the diagnosis is not able to treat people and get special nutrition, these strange lives are lost without being an active part of society. "
PART 9 PARTICIPATION
Albuminen Association Members of the Association Alim Yilmaz, Vice President of the Association of Supportive and Solidary Fibrosis Association, Serap Çöremen, Chairman of the Fenilketonuri Family Association, Deniz Yilmaz Atakay, President of the MPS LH Society, Muteber Eroğlu, NCL Ceroid Lipofuscinosis, Neurona Association of Diseases, and President of the Association Mineta. Keskin Ergin, President of the Association of Cystinosis Patients, Gülnur Gökmen, Head of High Blood Pressure, and Scleroderma Society and the Pulmonary Arterial Hypertension Patient Kamil Hamidullah Emre Erdal, founder of My Happiness, Ece Soyer Demir, Vice President of the SMA disease control team.