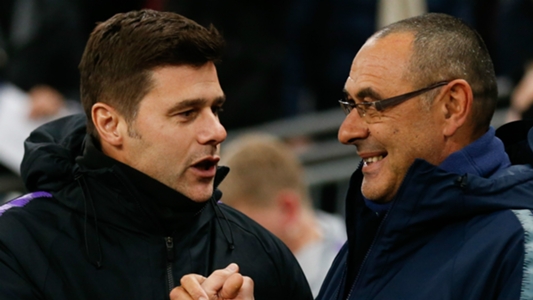 [ad_1]
The Argentine masterminded Tottenham's impressive win over Chelsea while Roberto Fimino's evolution from striker to playmaker is almost complete
By Monday morning we know all about the brightest stars of the weekend action – who scored the goals, who made the glaring errors – but often the most important tactical plots failed to break through.
Here, Goal looks beyond the obvious headliners and takes a look at five tactical things you might have missed from the Premier League.
---
Firmino flips from striker to playmaker
---
Liverpool's slow passing and sluggish movement during the first hour against Watford could easily have cost them the points at Vicarage Road. If the visitors had played with greater urgency they could have pulled the Hornets out of position, but instead they worked on and rode their luck before Mohamed Salah finally made the breakthrough.
What was most remarkable during that first hour was the disconnect between Liverpool's defensive players and the front four. Watford's layers of boxes (4-2-2-2) successfully forced Liverpool to play lethargic passes into the wide areas on Saturday, with strikers Troy Deeney and Gerard Deulofeu blocking off the route from Liverpool center-back to Liverpool attacker.
In an unusual 4-2-4, Jurgen Klopp did not have anybody coming short to receive the ball on the half turn, connecting like David Silva at Manchester City or Dele Alli at Tottenham Hotspur. You do not need that sort of playmaker when ripping through the middle at breakneck speed, but now Liverpool has become a more prosaic possession side it is essential they find a playmaker.
Roberto Firmino is that man. He (finally) dropped deep to get the ball in the 67th minute, played an incisive pass forward, and then kept moving to again becoming the catalyst in the final third for Salah's opener. It was a simple, yet intelligent piece of play that Klopp must encourage in the coming weeks.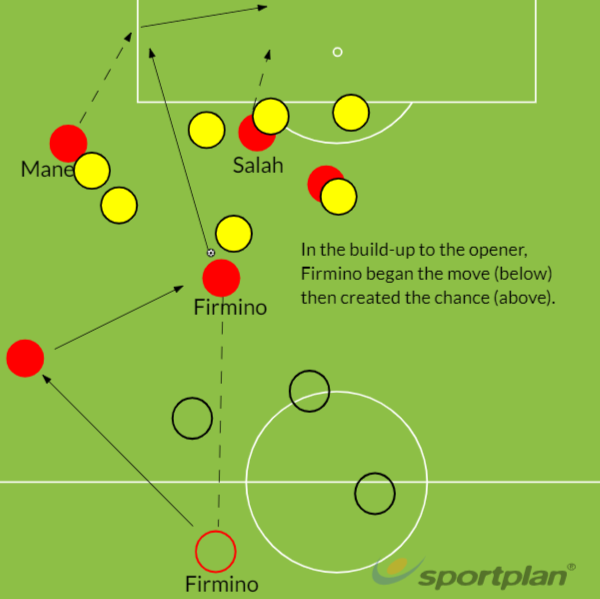 ---
Pochettino's perfect plan to stall Sarriball
---
Tottenham's performance in their 3-1 victory against Chelsea was outstanding; rather than focus on one thing we learn, Mauricio Pochettino's tactical masterclass deserves full exploration.
As expected, he followed the blueprint laid down by Everton and instructed Dele Alli to sit on top of Jorginho, limiting his ability to make a forward pass and thus blunting the visitors. But defensively and offensively it was so much more than that.
Pochettino's 4-3-1-2 ensured Spurs dominated in every area. By playing three central midfielders and a front three that alternated in dropping deep, he made sure the visitors were constantly swarmed and overwhelmed by at least four bodies. This was made possible by congregating to the left of center – in the areas around the weaker technician N'Golo Kante – and by pressing aggressively throughout. They raced out of the blocks, highlighting Chelsea's frailty against brave opposition.
On the flanks, Pochettino instructed his full-backs to get unusually tight to whoever received the ball, be it winger or full-back; I knew that Maurizio Sarri's possession football meant there would be no runners in behind, and therefore no threat from leaving the defensive line. Spurs could sit ultra-narrow and push right into the wide men, marking Eden Hazard out of the game.
Moussa Sissoko was utterly brilliant as the engine in midfield, his work-rate and desire symbolic of Spurs' team performance. But even better was the roaming interplay of Harry Kane, Heung-Min Son, and Alli. They dropped back to help defend; They picked up loose balls in the too-large gap between Willian and Kante; and they made runs on the outside of the two Chelsea center-backs, with They are in particular setting the tone of the match from the right. It was a perfect plan from the Spurs manager.
---
Emery finds a new formula for Arsenal
---
Unai Emery unexpectedly switched to a 3-4-2-1 formation against Bournemouth, possibly because he anticipated Eddie Howe starting with a back three but more likely to offer more protection on the flanks, with Sead Kolasinac having looked vulnerable defensively since his return to the side.
It did not exactly work at first, with Bournemouth creating numerous counterattacking opportunities via slide passes through the gaps in the unfamiliar three-man defense, though offensively Arsenal's tactics were intriguing. It certainly is not a bad plan B for the future.
Alex Iwobi and Henrikh Mkhitaryan tucked inside to play as dual number ten, which sucked Bournemouth inwards; the Cherries' under-stocked midfield meant David Brooks and Ryan Fraser had no choice but to follow them in. This created space for Hector Bellerin and Kolasinac on the overlap, both men having been freed of defensive responsibilities by the system switch. Iwobi to Kolasinac assisted both goals.
The threat of Iwobi in the number has space and Kolasinac on the overlap made Howe change his approach. He switched to 3-4-2-1 for the start of the second half so that a spare center-back could push up and confront Iwobi. However, when this happened in the 67th minute, Simon Francis was turned and makeshift right wing-back Ryan Fraser lost Kolasinac – who crossed for the winning goal. Howe felt forced into a change that backfired. Emery deserves the credit for this.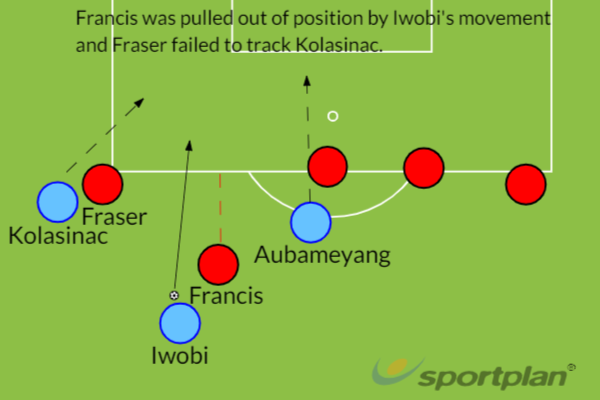 ---
Billing the perfect foil for magnificent Mooy
---
Injury restricted Philip Billing to only eight Premier League starts in 2017-18, but now the 22-year-old Huddersfield Town midfielder is back to his best, linking superbly with Aaron Mooy to control midfield against Wolves on Sunday.
Joao Moutinho and Ruben Neves may have been expected to dictate the play, but once again Nuno Esperito Santo's two-man midfield was simply overwhelmed by the numbers of opposition; Huddersfield held 55 percent possession in a 2-0 win at Molineaux.
Billing was brilliant, using the space created by the presence of Alex Pritchard and Jonathan Hogg (at times, the Terriers had four-v-two in the middle) to drive forward on the ball. It was his through-ball that Erik Durm left to cross for Mooy's opener, while Billing ended the game having completed two key passes, two dribbles, and four interceptions – all season highs.
Mooy's double should help Australia international rediscover its brilliant first touch and long-ball distribution, although here it was tackling (five in total) and crossing that really stood out.
In Mooy and Billing, David Wagner has the midfield partnership that he needs to restore a possession possession after months of gradually sinking into a defensive shell.
---
Ranieri goes direct in bid to get Fulham firing
---
It was not a vintage display from the hosts, but Fulham's 3-2 victory against Southampton nevertheless contained a hint of what is to come under new manager Claudio Ranieri.
The Italian is a considerably more direct, assertive coach than his predecessor Slavisa Jokanovic, and it showed at Craven Cottage as Fulham ruthlessly took their chances.
Article continues below
His Aleksandar Mitrovic's first goal could have looked like the sort of slick passing movement of the Jokanovic era, but in fact Fulham would never have scored like that a fortnight ago. They got from their own half to the opposition goal line in just six passes, and four of those were not just forward but completely vertical; Ranieri teams do not mess about.
The second strike was courtesy of two long balls, the first to hoof up to Ryan Sessegnon (who ran straight to his defender) and the second a sweeping cross to the back post for Andre Schurrle to score.
There is plenty of hard work ahead, but Fulham are already showing the sort of urgency and directness the new boss will preach in the coming months.
[ad_2]
Source link